Drought in western US could complicate the growing season
After 2020's pandemic-related challenges, US farmers were hoping for an uncomplicated growing season, says the National Farmers Union.

Unfortunately, for many that dream seems unlikely, as much of the Western half of the country is experiencing severe to exceptional drought conditions. According to the National Aeronautics and Space Administration (NASA), the dry conditions can be attributed to "a weak summer monsoon season and ongoing La Niña conditions." It's likely that climate change is to blame as well; changing precipitation patterns are a well-documented side effect of climate change, including more severe and prolonged droughts.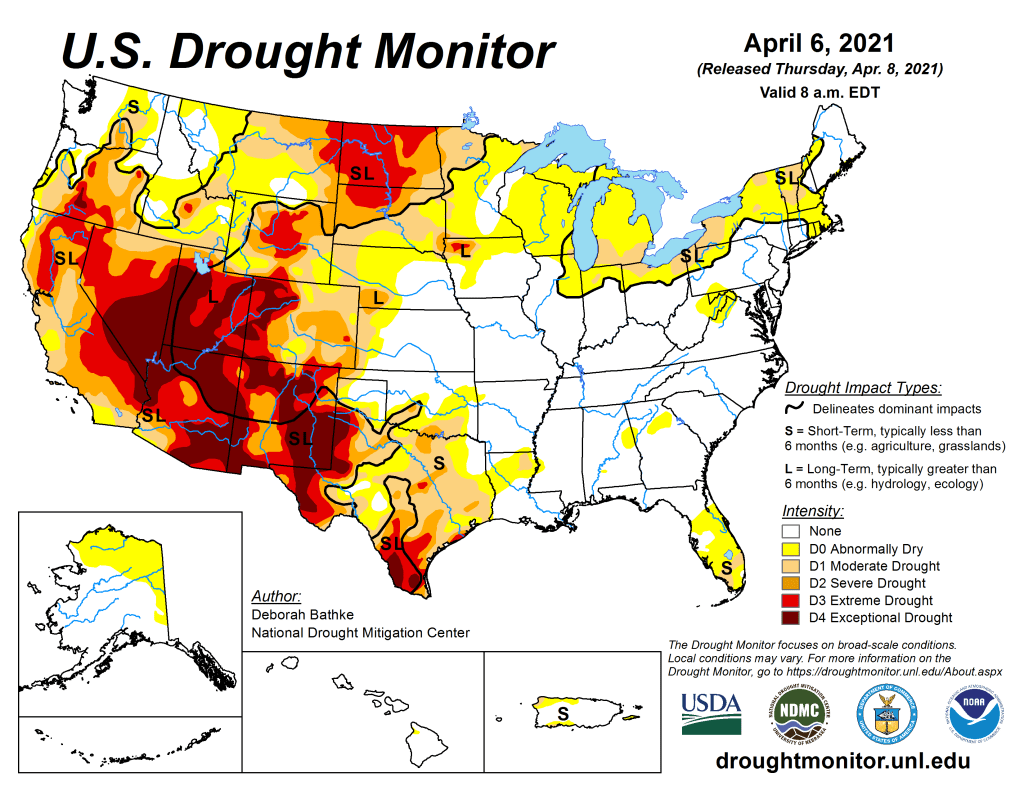 Things are expected to get worse before they get better; the National Oceanic and Atmospheric Administration (NOAA) predicts that drought conditions will persist for several months, affecting about 74 million Americans. Farmers and ranchers are among those who will most directly experience the effects in the form of less abundant and more expensive water, diminished crop yields, and higher expenditures for hay.
There are also concerns that dried-out trees and vegetation will fuel another bad wildfire season, following last year's devastating blazes. Several states, including Wisconsin, Minnesota, North Dakota, and South Dakota, are currently experiencing or recently experienced high fire risk. In Wisconsin, 1,500 acres have already burned – which doesn't bode well for the typically much more treacherous wildfire season in the West.
In response to worsening drought conditions in the West, including in areas like the Klamath River Basin, Secretary of the Interior Deb Haaland and Secretary of Agriculture Tom Vilsack released the following statement:
"Water is a sacred resource essential to feeding families, growing crops, sustaining wildlife and the environment, and powering agricultural businesses. Unfortunately, drought conditions in the West continue to worsen, including in areas like the Klamath River Basin, leading to the potential for historically low water allocations.
"The Departments of the Interior and Agriculture recognize the urgency of this crisis and its impacts on farmers, Tribes, and communities, and are committed to an all-hands-on-deck approach that both minimizes the impacts of the drought and develops a long-term plan to facilitate conservation and economic growth.
"Our agencies are actively working with Oregon, California and other western states to coordinate resources and identify immediate financial and technical assistance for impacted irrigators and Tribes. We are also committed to robust and continued engagement with state, local, and Tribal governments to develop longer term measures to respond to climate change and improve water security."
TheCattleSite News Desk