Saskatchewan invests $7.5 million in livestock forage research
The Governments of Canada and Saskatchewan have announced $7.5 million in funding for livestock and forage-related research via the Saskatchewan Agriculture Development Fund (ADF).
This includes more than $4.1 million in funding for 24 livestock and forage-related research projects and nearly $3.5 million in operational funding for the Prairie Swine Centre and the Vaccine and Infectious Disease Organisation (VIDO) at the University of Saskatchewan.
Support from the ADF is awarded on a competitive basis to projects that create future growth opportunities and enhance the competitiveness of the industry.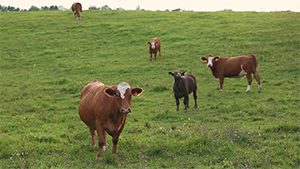 After announcing the funding, Agriculture Minister Marie-Claude Bibeau said, "Despite challenges such as the COVID-19 pandemic, our farmers continue to make sure Canadians and people around the world have access to our high-quality food. The projects announced today will help to advance important research so our farmers can find even more sustainable and efficient ways to produce this food and continue to grow the sector."
This research will impact producers across commodities with studies that benefit bees, bison, beef cattle, swine, poultry, dairy cattle and sheep. For example, one project led by Kerri Finlay will look at how removing sulphates from agricultural ponds improves cattle health. Another project led by Dr Murray Jelniski will use watering bowls to study antimicrobial resistance. Kathy Larson will lead a project that will examine how cow-calf producers are using production and financial data to make management decisions on their operations.
Saskatchewan's Agriculture Minister David Marit said, "Through the ADF, producers benefit from research into new forage varieties, improved livestock feeding systems and management of animal diseases that drive industry growth. This year's projects will expand the growth potential of the industry by exploring topics such as water quality, cost of production, diagnostics supports, animal health, forage production, quality and breeding. Innovation helps our producers meet the Saskatchewan Growth Plan objectives of increasing livestock cash receipts to $3 billion and increasing value-added revenue to $10 billion by 2030."
In addition to funds committed by the federal and provincial governments, livestock and forage research projects announced this year are also receiving nearly $324,000 from the following partners:
Saskatchewan Cattlemen's Association
Saskatchewan Forage and Seed Development Commission
Saskatchewan Alfalfa Seed Producers Development Commission (a new ADF industry partner this year)
SaskMilk
Alberta Milk
Quick facts
The ADF is supported through the Canadian Agricultural Partnership, a five-year, $3-billion investment by federal, provincial and territorial governments to strengthen the agriculture and agri-food sector. This includes a $388-million investment in strategic initiatives for Saskatchewan agriculture.