CME update: cattle futures inch lower as traders weigh slowed meat processing
Live cattle futures fell on 6 January as traders considered declining beef cut-out values against expected tighter market-ready cattle supplies in the second quarter of the year.
Reuters reports that daily cattle slaughter remains lower, with just 117,000 head processed compared to 124,000 the same period last year, putting week-to-date beef production at 347,000 - 1.4 percent behind last week and 5.7 percent behind the same period last year.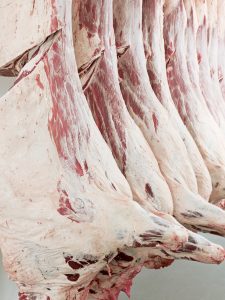 "That's not good, coming out of the holidays, when you hope to see good beef clearance," said Doug Houghton, technical analyst at Brock Capital Management.
Wholesale beef fell for a second day, with choice boxed-beef cuts down $0.63 to $205.27 per cwt and select cuts down $0.41 at $196.08, USDA said.
Chicago Mercantile Exchange (CME) February live cattle futures settled 0.050 cents lower at 115.000 cents per pound, while feeder cattle futures felt pressure from rising corn futures, with CME March feeder cattle settling 0.850 cents lower at 136.575 cents per pound.
Read more about this story here.
Source: Reuters