Chinese consumers are turning away from imported meat due to COVID-19 fears
Chinese supermarkets and consumers are embracing domestic meat as import numbers stagnate and concerns over food-borne transmission of the novel coronavirus continue.
According to reporting in China's Global Times, meat prices are increasing as more consumers and restauranteurs choose domestically produced meat instead of imports. Though the WHO and CDC state that there is limited evidence of food-borne transmission of COVID-19, Chinese consumers view pork, chicken and beef from domestic farms as safer than imported cold chain items.
China's meat imports have slowed in recent months. Data from China's General Administration of Customs shows that beef and pork imports in November are almost 70 percent lower than import volumes in July.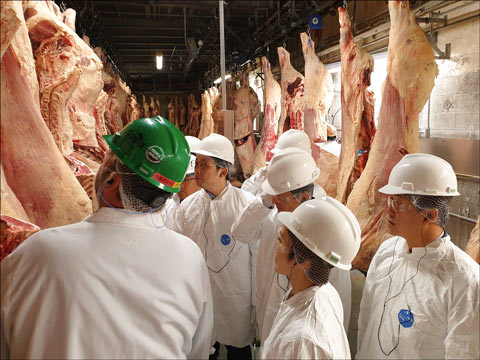 Since the coronavirus pandemic began, multiple cold chain products like beef, pork and poultry have tested positive for SARS-CoV-2, the virus that causes COVID-19. The test results have slowed and temporarily stopped meat imports from Brazil, India, Russia and Ecuador. So far, only one consignment of Chinese meat has tested positive for the virus.
Yang Meng, owner of a large seafood importing company, told the Global Times that the sporadic positive tests are creating uncertainty for his business and other links in the food import supply chain.
"Because there were employees who tested positive at the ports, it is increasingly difficult and time-consuming for us to unload our imported products from the port," Yang said. The process now takes up to two weeks, compared with the previous situation when it only took one day.
Read the full story in The Global Times.