Jump in use of sexed dairy, beef semen
Sales of sexed dairy semen accounted for just over half of dairy semen sales in the year to March 2020, jumping up from a 32% share the previous year, writes Katherine Jack, AHDB analyst for dairy.
At the same time, there has been an increase in proportion of beef semen sales, now up to nearly 48%. This information comes from a survey of GB semen companies carried out by AHDB's animal genetics team.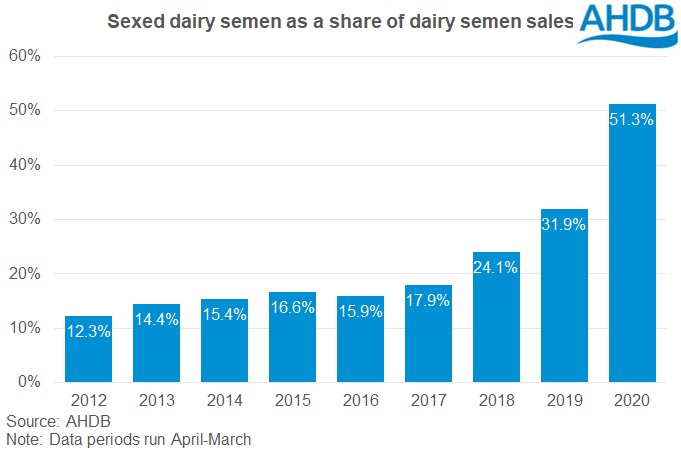 The use of sexed dairy semen has seen particular growth over the last three years. This is thought to be in part due to improvements in success rates and more competitive prices relative to conventional semen. However, the increasing scrutiny and rules around dairy bull calves is likely to have encouraged the recent jumps in sexed semen sales.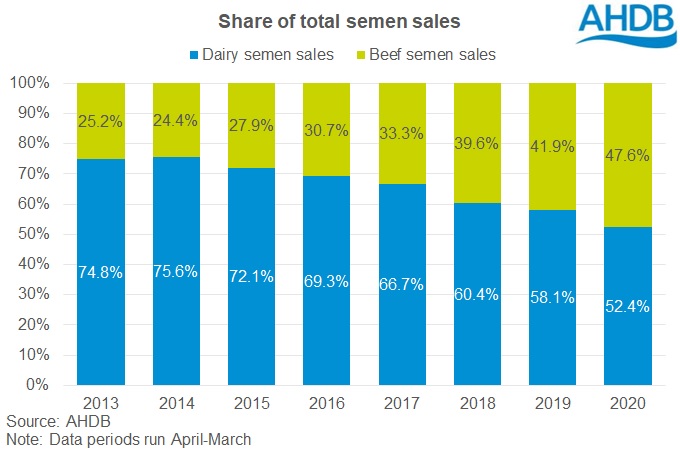 We have also seen beef semen take an increasing share of semen sales. This ties in with the increased use of sexed dairy semen – with fewer cows needed to provide replacement heifers, more cows can be serviced with beef semen for a more profitable beef calf.
The survey results have also been used to make crude estimates of the share of each type of calf born. Here we can see the increasing share of beef calves – from about a quarter of calves born in 2012 to nearly half in the latest year. In the same time, dairy bulls have gone from a third to just 15%.
While there has been a notable shift in heifers coming from conventional to sexed dairy semen, the overall share of heifers has also changed, with estimates declining from 41% to 37% of calves born over the last 8 years. The overall size of the dairy herd is declining long-term, meaning fewer heifers are needed to act as replacements. However, increased milk yields over the same period have counterbalanced the effect of a smaller milking herd on milk production.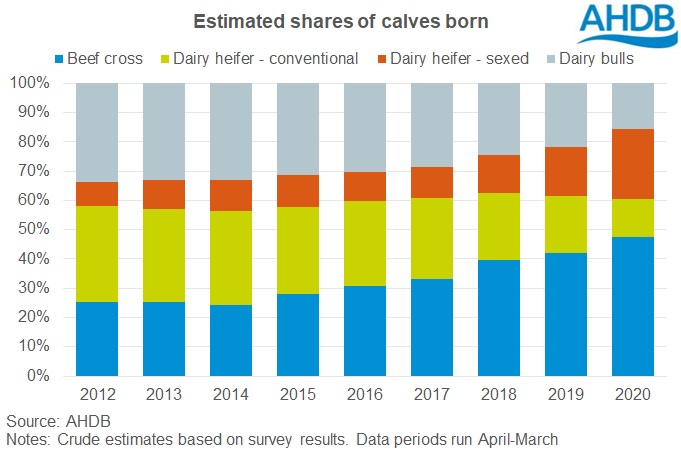 TheCattleSite News Desk