Economic significance of Australia's red meat, livestock industry
The recently released State of the Industry Report 2020 shows that domestic and export sales of red meat and livestock in 2018-19 totalled $28.5 billion, of which red meat exports contributed $17.2 billion and domestic sales accounted for the remaining $11.3 billion.
Industry turnover
Australia's red meat and livestock industry turnover in 2018–19 increased 7% year-on-year to $72.5 billion (ABARES, IBIS World). There has been significant growth in the feedlot and on-farm sectors of the industry in recent years, incorporating beef cattle, sheep and mixed farming, with overall industry turnover increasing 42% from 2013–14 to 2018–19. The feedlot sector in particular reported a 54% increase over the same period, due to producers increasingly utilizing feedlots as a means for drought mitigation and increased demand for grain-fed beef in export markets, writes Meat and Livestock Australia.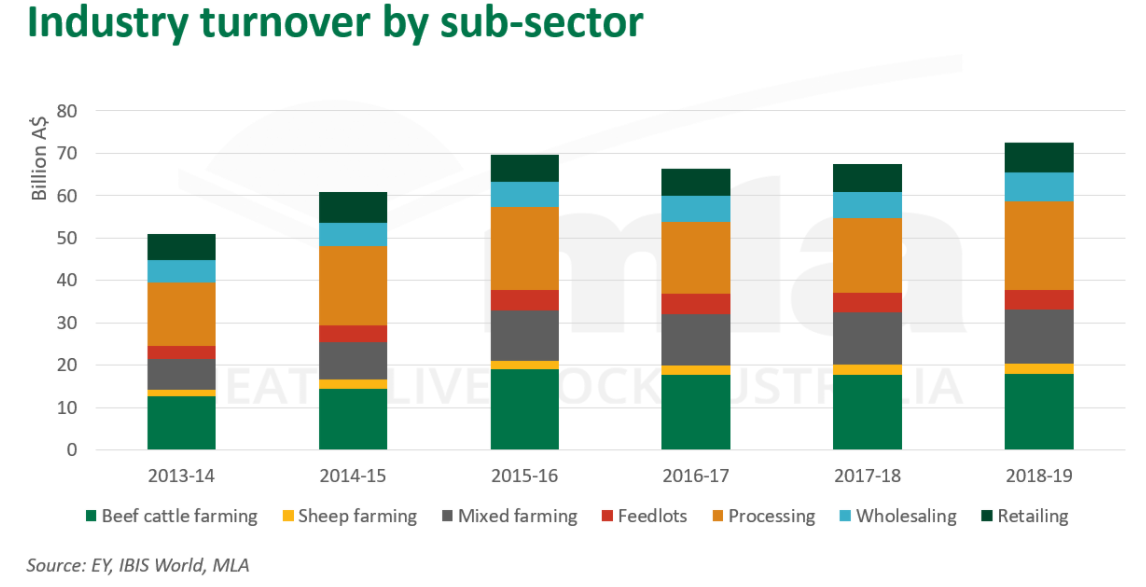 Industry value add
In 2018–19, Australia's red meat and livestock industry value add totaled $17.6 billion, up 1% on the prior year and 89% higher than 2013–14 levels, driven by increasing demand for high quality protein in global markets. The production sector accounted for 70% ($12.3 billion) of overall industry value add, followed by processing at 20% ($3.5 billion) and sales at 10% ($1.7 billion). While accounting for only a small portion of Australia's key industry value add at 1.4%, the ability for the industry to increase overall value during the worst drought on record is remarkable.
Employment
The Australian red meat and livestock industry employed approximately 434,000 people in 2018–19, stable on year-ago levels and 5% higher than 2013–14. Of these, 189,000 people were directly employed, with a further 245,000 people employed in businesses servicing the industry indirectly. Beef cattle farming continued to provide the largest employment levels in the red meat and livestock industry at 77,000 people, while 40,000 people were employed in mixed farming enterprises in 2018–19, demonstrating increasing interest in the sector.
Number of businesses
Despite a 3% decline on year-ago levels in 2018–19 to 77,500, the number of businesses in the red meat and livestock industry has remained relatively consistent in recent years, with last year's levels in line with 2013–14. The stable number of businesses since 2013–14 contrasts with the 42% increase in industry turnover and 89% increase in value add, reflecting increased productivity in businesses in the industry.
TheCattleSite News Desk