African Swine Fever Spreads; Impact on Global Meat Supply
ANALYSIS - African Swine Fever (ASF) is spreading throughout Asia with a growing emphasis being placed on combatting the epidemic, according to Meat & Livestock Australia.
Key points:
African Swine Fever outbreaks have been confirmed in South Korea and the Philippines
Pork supply situation in China worsening, driving pork prices to record highs
Pork shortage across Asia will drive demand for more imported protein in the region and lend support to Australian export prices well into 2020
ASF is transmittable when pigs come into direct contact with infected animals, indirect contact with contaminated objects, or are fed contaminated pork products. While ASF can be fatal for pigs, humans are not susceptible to the virus.
Unfortunately, there is no cure for the virus, making prevention the best method of defence. This means maintaining strict biosecurity regulations and a diligent approach towards sanitation, testing and restrictions on movement.
China's pig herd has undoubtedly been devastated by the ASF epidemic, with outbreaks occurring in all provinces across mainland China. Accounting for half the world's pork production (over 50 million tonnes prior to 2019), the scale of this issue is colossal. Vietnam, Cambodia, Laos, Myanmar, Mongolia and, more recently, South Korea and the Philippines have all reported ASF outbreaks and have begun combative measures.
In South Korea, emergency measures were quickly put in place, including a nationwide standstill order for 48 hours while 6,300 pig farms are checked and sanitised, along with a three-week ban on pig movement within an identified 'ASF Critical Control Area'.
The Philippines also reported that outbreaks back in July were confirmed as ASF, with 8,000 hogs already culled as a preventative measure.
Pork's role in Asia
The importance of pork within diets in Asian countries cannot be understated, making up 62% of Chinese meat consumption. Pork consumption has begun to decline due to supply shortages, with consumption of chicken, beef and sheep all recording an increase.
China's role within global pork production is huge, and given the scale of their production and consumption of pork, will ultimately have the greatest impact upon global meat markets.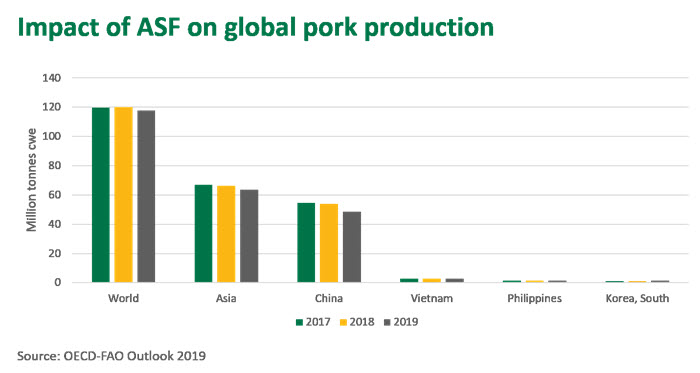 Impact of ASF in China
Pork production within China has taken a huge hit with a reported 1.17 million pigs being culled since the first outbreak in August last year, according to the FAO. Subsequently, the live hog inventory was back 34.7% year-on-year and hog slaughter down 24.1% in August.
The Chinese government has implemented a prevention and control campaign, outlining the importance of cleaning and disinfection, which is under way in attempt to reduce further spread of the virus. They are also encouraging farmers to expand current operations but the message has been received with caution by farmers, given the ongoing risk of ASF and lack of definitive compensation upon re-infection.
Chinese consumers are starting to feel the pinch from pork supply shortages, as prices across the country are spiking upwards. The price of pork within Chinese markets has increased 62% since the beginning of June, pushing the meat Consumer Price Index up 31% on this time last year.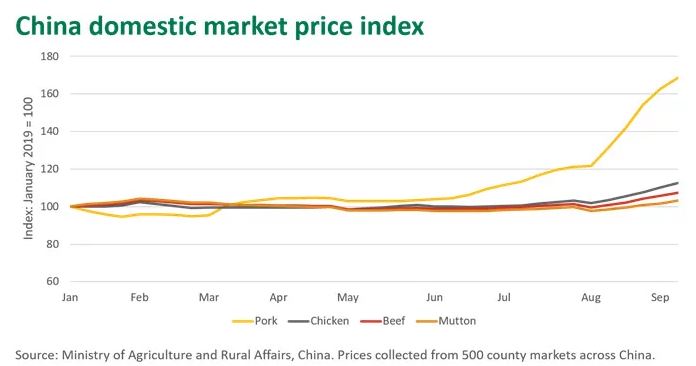 International meat supply
As discussed in a recent article, although international supply is no shape to fill the massive estimated 10-20 million tonne pork production deficit in China this year, import volumes across most meat categories have increased. Australia's elevated drought induced supply has benefited from the surging demand from China, with beef export volumes for the year-to-August up 67% on 2018.
South America continues to improve its ability to supply China, with 25 additional meat processing plants in Brazil recently approved for shipments, along with a further eight in Argentina. China has also just announced that they will ease back on restrictions on US pork and soybean exports, alleviating some of the pressure from new tariff regulations. This comes off the back of the single largest month of US pork shipments to China since 2010 (July: 43,000 tonnes swt). Given that the US is the world's second largest pork producer, they are a logical supplier to look to fill the pork deficit, albeit assuming trade negotiations can be agreed upon.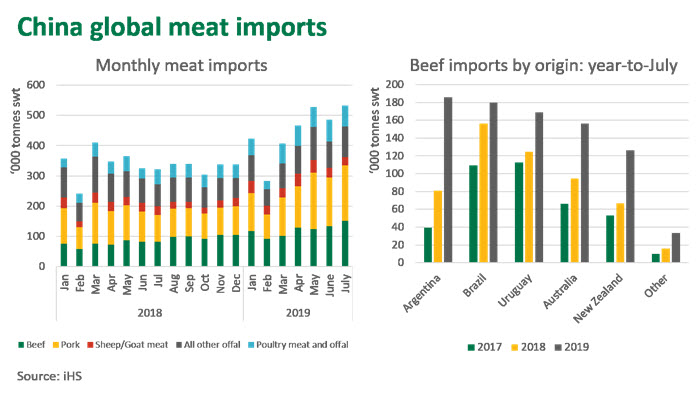 As Asian protein demand continues to ramp up, led by China, buying competition for red meat on the global market should remain robust. For Australia, this means that when supply levels do eventually tighten, prices should remain well supported.
For more information regarding Australia's export figures, visit MLA's market data and insights page for detailed summaries.
TheCattleSite News Desk