Slowdown in World Milk Supply Growth
GLOBAL - Global supplies of milk continue to outpace last year, although growth has slowed in recent months.
July saw the smallest year on year increase in milk deliveries since the start of the year, with total volumes up 1.0 per cent compared to 2.7 per cent growth at the beginning of the year and 1.5 per cent in the previous month.
The main change in recent months has been lower production growth in both the EU and the US. In the EU, deliveries have been impacted by the hot dry summer, while US production has been impacted by low prices, leading farmers to sell off cows.
Supplies from the southern hemisphere nations of Argentina and New Zealand remain up on last year, while Australia's production has been impacted by drought conditions, leaving them down on last year by about 1m litres per day (-4.2 per cent).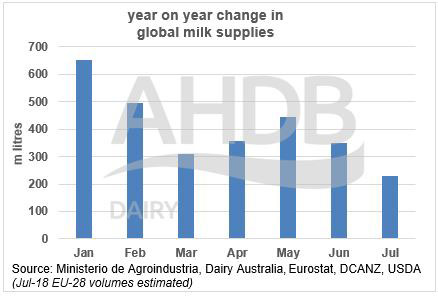 TheCattleSite News Desk