Arla Re-positions Apetina with Radical Re-brand
UK - Arla Foods is relaunching Apetina this summer with a radical new pack design to reposition the brand as the cheese to cook with.
The new global re-brand and campaign for the Mediterranean style cheese will encourage consumers to cook with Apetina and have fun in the kitchen. Savera Paneer, the authentic Indian cooking cheese, has been rebranded and added into the Apetina range fitting perfectly with the cooking proposition.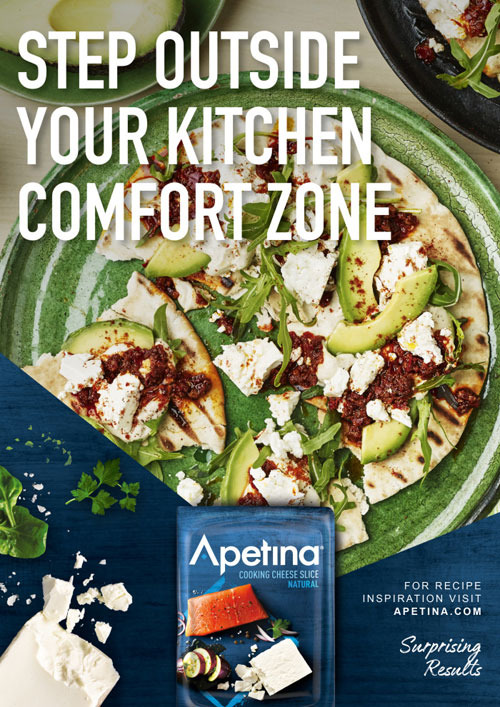 Rebecca Holt, Arla UK brand manager for Apetina said: "There is a huge opportunity for a brand to own the cooking cheese category and we believe Apetina can do it. The packaging has had a revolutionary redesign which gives great stand out on shelf."
The design has new photography which makes Apetina cheese the hero and includes copy such as "mix with…" "stir with…" to give consumers guidance and inspiration.
To support the relaunch, the UK will be the first market to launch the global Surprising Results media campaign in July which focuses on the versatility of Apetina and its great taste. The core creative idea shows you can add Apetina to your everyday meals to make a surprising difference. The campaign will include Facebook activity, activity on retailer ecommerce websites and recipe videos with an influential food vlogger.
Ms Holt added: "The Surprising Results campaign will grow the cooking cheese category by expanding out of the salad bowl and into the cooking pot – our target audience have an inner desire to be more creative and we want to the brand to enable them to transform their meals."
TheCattleSite News Desk