OIE reports FMD Outbreak in Mpumalanga Dairy Farm
SOUTH AFRICA - The South African veterinary authorities have reported an outbreak of foot and mouth disease at a dairy farm in Mpumalanga.
According to the World Organisation for Animal Health (OIE), the outbreak was initially observed on 1 March and confirmed two days later (3 March) after liquid-phase blocking ELISA and polymerase chain reaction (PCR) tests were conducted at the Onderstepoort Veterinary Institute Transboundary Animal Diseases Programme, the OIE's reference laboratory.
After confirmation of the presence of the FMD virus in the region, an immediate notification was sent to the OIE on 7 March.
According to the report, a total of 1500 dairy cattle showed signs of susceptibility, out of which 12 cases were reported. There have been no records of any deaths, and none of the affected animals have been destroyed or slaughtered.
The OIE reports that this outbreak is located in South Africa's FMD Protection Zone, which is not part of the FMD Free Zone and, therefore, does not affect South Africa's OIE-recognised FMD-free status.
Several control measures have been applied in order to prevent further spread of the disease, some of which include:
Movement control inside the country
Screening
Traceability
Quarantine
Surveillance within containment and/or protection zone
Vaccination has been prohibited
None of the 12 affected animals have received treatment, and the source of the outbreak remains inconclusive.
The following map indicates the area where the foot and mouth disease outbreak has occurred: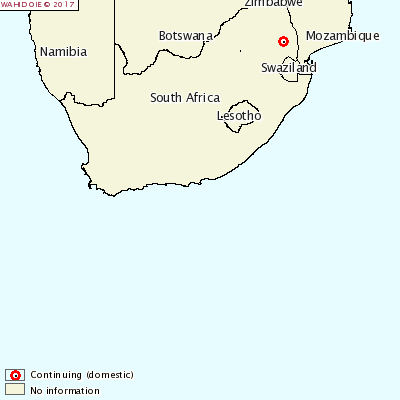 Further Reading
Find out more information on Foot-and-mouth disease (FMD) by clicking here.
TheCattleSite News Desk