FMP Reducing but Still Positive for Now
UK - The positivity shown by AHDB's Forward Market Performance (FMP) indicator has eased, due to reduced futures prices.
The indicator* shows only a slight positive figure, compared to previous months.
The overall average for January suggests that those who trade in futures markets are not expecting prices to move significantly between now and May.
However, the futures prices used from the European Energy Exchange (EEX) have been reducing throughout the month.
This shows that traders involved with these futures markets may be starting to feel the supply/demand balance could be shifting in the coming months.
It could be signals for improved milk production, as we head towards the peak, that are causing these changes in the futures market.
While, it is important to note trade within the futures market is limited at present and the views are of those involved, it does give us an indication of potential short term price trend.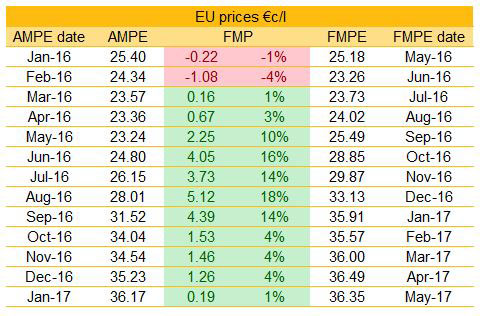 *FMP is the gap between an EU AMPE and a Future Milk Price Equivalent (FMPE). FMPE is calculated four months in front of AMPE, as this is usually when most futures trade is completed. It is designed to give some indication as to the direction prices may travel in the short term.
TheCattleSite News Desk