UK is Largest Dairy Customer for EU-27
EU - After Brexit, the UK would be the EU's largest customer for dairy products, if trade continued at recent levels.
The UK imported around £2.5bn worth of dairy produce from the EU-27* during 2015. This is equal to around 20 per cent of EU-27's total global exports.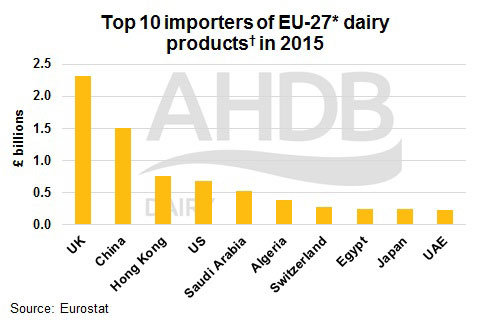 Despite excellent milk producing credentials, the UK has the second largest net dairy deficit in the world, behind China. This trade deficit is largely driven by cheese imports, which made up around half of the value of the UK's total dairy imports in 2015.
It also imports significant quantities of infant formula, butter, yoghurts and buttermilk. As a result, the UK is one of the most valuable global markets for dairy and will be a key target for many dairy exporting nations.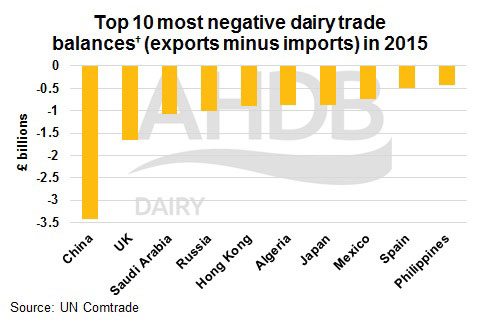 In a future article, AHDB will look at which EU Member States rely most heavily on the UK for their dairy exports.
*EU-27 refers to the current EU Member States with the UK excluded
†Dairy products included are cheese, butter, butteroil, whey, buttermilk and fermented products, yoghurt, concentrated milk, powders, milk and cream, infant formula (includes some starch-based infant products due to commodity code overlap) and ice cream.
TheCattleSite News Desk