Welsh Milk Production on the Increase
UK - Early estimates put GB milk production in 2016 at 11.88bn litres. This is 605m litres (4.8 per cent) lower than 2015 and 287m litres (2.4 per cent) lower than 2014.
Despite the drop for overall GB, using June 2016 data from the Cattle Tracing System (CTS), it appears that milk production in Wales has increased by 1.4 per cent over the last 2 years.
The overall drop for GB is driven by 3.3 per cent and 1.3 per cent decreases in England and Scotland, respectively.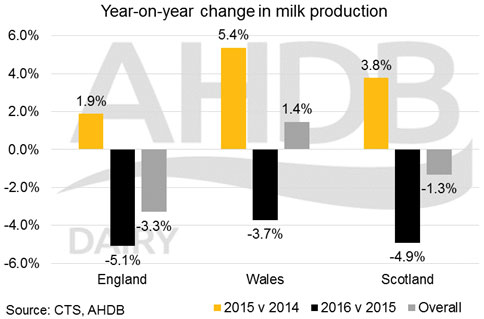 Prior to the removal of quotas, the RPA published an annual split of GB milk production by country.
This has not been available since 2014/15, however AHDB has estimated the numbers using cow numbers and milk yields. The estimation gives the following breakdown by country:


Source: AHDB estimates
The volume increase in Wales and reduction in England continues the general trend seen over recent years of milk production increasing in the west of the country and decreasing in the east.
While logical in terms of good grass growing regions, it does mean milk production is, in general, moving away from the majority of consumers.
Notes: Estimations assume that the average milk yield per cow has moved by the same amount in England, Scotland and Wales over the last two years.
TheCattleSite News Desk