Cream Price Under Pressure but Still Historically High
UK - The bulk cream spot price has fallen 10 per cent for the second time in two months. Since the Christmas demand was covered, prices have been under pressure from signals of higher milk production (from UK and EU) and influenced by currency movements.
However, it is important to remember the recent movement of prices. Between April and November, the average cream price increased circa 150 per cent, from £800/tonne to £1,990, the highest average price on record from the AHDB Dairy survey.
Taking into account 5-year average prices also puts the January 2017 price in perspective. As the graph below shows, the current £1,620/tonne cream price is still well ahead of the 5-year average. Even some of the lower prices quoted over the month (low-mid £1,500s) are still above that level.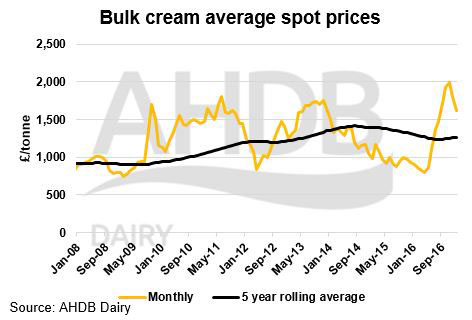 Cream tends to react more quickly to milk production movements than butter, due to the limited storage ability. As such, its relationship with butter has altered in a short space of time.
Traditionally, the value of fat in cream is slightly lower than that of butter. This reflects the higher processing costs of churning cream into butter. On average, over the past five years, butter has held a 6 per cent premium over cream.
However, in October and November, this relationship reversed, with cream leading butter by 5 and 7 per cent, respectively. In January, butter regained its premium over cream, by 8 per cent.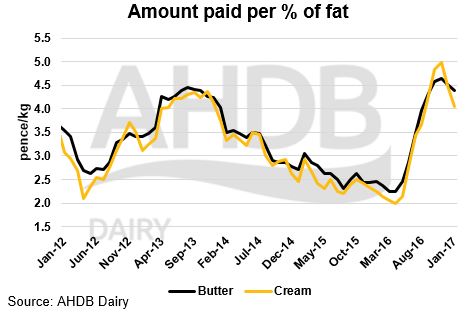 Spring milk will, ultimately, determine the supply/demand balance for fat over the coming months. This balance is likely to have more impact on cream prices than it does on butter, due to the storage limitations.
However, between now and then, production signals and political messages (largely surrounding Brexit and the US) will drive sentiment and influence traders' decisions.
For more on the UK wholesale markets in January, please click here.
TheCattleSite News Desk