Global Milk Production Peak at 3-Year Low
GLOBAL - Milk production from the five main exporting nations has recorded its lowest October peak in 3 years.
Global milk supplies normally increase in October due to the timing of Oceania's peak production period.
This year, however, New Zealand (NZ) has seen their lowest peak since 2012 while Australia is currently running at a 9-year low.
Production in the EU-28 is also slowing down and likely to end 2016 with total production up 0.5 per cent on 2015.
Most of the key dairy producing Member States reported substantial drops in deliveries in November, with Germany, France and the UK down 5.2 per cent, 7.6 per cent and 7.3 per cent respectively.
Although the Netherlands' and Ireland's deliveries in November were not down on previous year levels, production growth has slowed considerably in both countries.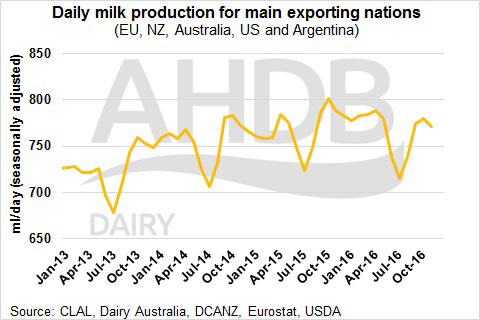 TheCattleSite News Desk