Dairy Sector Remains Significantly in the Red
EU - Milk prices cover only 59 per cent and 67 per cent of production costs in the Netherlands and Germany respectively.
As current figures prove, the situation for milk producers has not improved sufficiently. For example, the association Büro für Agrarsoziologie und Landwirtschaft (BAL) reported a cost price of 44.96 cents/kg milk for the Netherlands in the third quarter. This is contrasted by an average milk price of just about 26.70 cents in the three-month period from July to October. As a result, production cost coverage is at only 59 per cent in the Dutch dairy sector.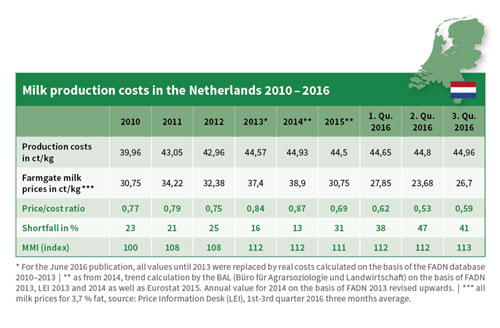 These figures stem from an ongoing study that provides production costs in different European countries on the basis of EU data. According to this study, a similar problem is affecting Germany as well. Figures up to October report costs of 44.77 cents and an average price of 30.05 cents/kg milk, which implies cost coverage of only 67 per cent.
Shortfall in cost-coverage in Germany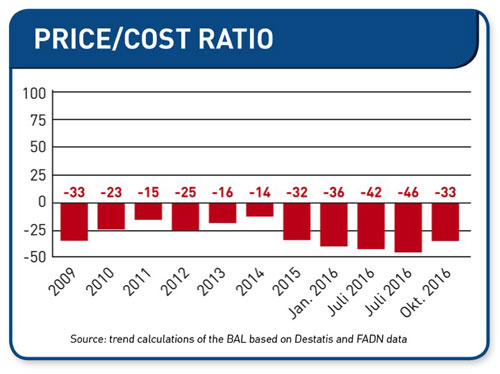 Dramatic situation raises questions
Such a situation begs the following important questions: How could it come to the current state of affairs where almost a third of production costs have not been covered for more than two years? Can sustainable, viable milk production continue to exist nationally and in Europe? How can the situation be improved on dairy farms that have taken a heavy toll and how can such a catastrophe be prevented in the future?
Romuald Schaber, German dairy farmer and President of the European milk-producer organisation EMB (European Milk Board), is among those providing answers to these questions: "We must be clear about one thing. Milk production can find some way or the other to survive in the short term. However, under the current conditions, we must forget about sustainable and viable production.
There is no other profession facing a comparable situation in terms of income. Many milk producers are going to give up their activity or sink even deeper into debt. Entire production regions risk becoming completely deserted." This shortfall in cost coverage has negative effects on animal welfare as well. According to Mr Schaber, the primary objective must be to maintain a balance between supply and demand on the dairy market in the future, so that cost-covering producer prices can finally be achieved.
How can the situation possibly be improved?
Sieta van Keimpema, EMB Vice-president and President of the Dutch association DDB, sees the implementation of the so-called Market Responsibility Programme (MRP) as the only possible way to improve the situation. "Prices on the milk market are so low because of the lack of a crisis instrument. The MRP, nonetheless, would help avoid the surpluses that suppress prices and lead to crises." Under this instrument, the dairy market would first be studied closely, to then be eased and kept in balance using a three-step programme (central element: voluntary production cuts) in the case of foreseeable crises.
Is the MRP, therefore, an alternative to proposals like futures markets or easier access to finance put forth by the EU Task Force? "The MRP is, in fact, the better alternative by a long shot. This is because the Task Force proposals have one major failing: They do not address overproduction, which is at the heart of the problems on the dairy market," says Mr van Keimpema.
Futures markets are based on the real dairy market - the spot market. If good milk prices are not achieved here, even futures markets cannot provide any sort of compensation. If the access to loans is facilitated in spite of these low prices, all they will achieve is continued overproduction and surpluses. This would end up supressing milk prices even further.
"This, in turn, makes it even more difficult to pay back loans - leading to a debt spiral," states a concerned Mr van Keimpema who clearly adds: "Production costs must be covered 100 per cent. Therefore, let's finally do the right thing and implement the MRP for the dairy market!"
TheCattleSite News Desk