EU Slaughtering Increase in 2016
EU - According to Eurostat, EU cow slaughterings (January-September) increased 8 per cent compared to 2015 and have been at their highest level for a number of years.
Data on cow slaughterings do not distinguish between dairy and beef animals. However, dairy cows account for two thirds of the EU cow herd.
As there were no major developments impacting on the beef suckler herd, the growth in cow slaughterings is mainly attributed to the dairy herd.
Slaughterings have been well up in all significant milk producing countries including the Netherlands and Denmark, up 15 per cent and more on 2015.
Increases of nearer 10 per cent have taken place in Germany, Spain, Poland and the UK.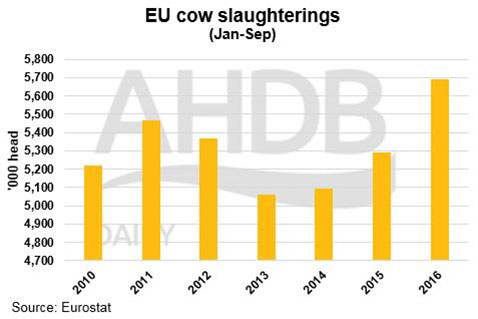 TheCattleSite News Desk