Dairy Farms Show Resilience in Face of Price Crashes
UK - Dairy farms across the country showed great resilience as they adapted to crashing milk prices in 2016.
Statistics from the Farm Business Survey show an 18 per cent fall in the farm gate milk price to an average 25.3ppl for the year. This was only 0.2ppl below the average cost of production at 25.5ppl.
With an average milk price of 25.3ppl, just under half of producers were able to produce milk profitably. However, almost 5 per cent of businesses produced milk for less than 20ppl. A further 13 per cent averaged a cost of production of between 20 and 22.5ppl. Despite this, around 20 per cent of farms were producing milk at over 30ppl, calculated on a full cost of production basis for all milk produced on farm.
Faced with falling milk prices, farmers managed to not only increase milk yields by 5 per cent to average 8,200 litres per cow, but also cut back on costs. The most significant of these was seen in feed bills where farms cut spending by an average of 11 per cent. Year on year, nearly all running costs were down, in particular farms made big savings in machinery and fuel costs.
Despite these efforts, dairy farm incomes fell by about halve in 2015/16, averaging an income of £43,900, explains Rachel Lawrence from Rural Business Research. "Although this was a huge drop on the year before, dairy farm incomes were still £12,300 higher than national average for all farm types."
"There's still a huge amount of variability in the sector," continues Ms Lawrence. "22 per cent of dairy farms lost money in 2016, up from 9 per cent the previous year. However 16 per cent of businesses had a farm business income of over £100,000. These latest results from the FBS show the results of a tough year, but also the ability of farms to respond to change and adapt to the future."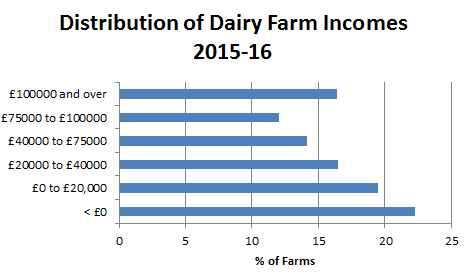 TheCattleSite News Desk