Nutriad Strengthens Digestive Performance Team
BELGIUM - Nutriad, Belgium based multinational feed additives producer, appointed Daniel Fernando Ramírez as Business Development Manager Digestive Performance. The digestive performance platform focuses on the digestive system as the key towards healthy and performing animals.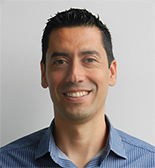 Mr. Ramírez received degrees in veterinary medicine and animal production at the UAM and UNAM universities in Mexico, and completed an MBA at the Porto Business School in Portugal. He has several years of experience as veterinary expert in research programs and as a senior commercial manager in the feed industry.
He will team up with Tim Goossens, to support Nutriad's Digestive Performance portfolio.
Mr. Ramírez stated: "I look forward to helping further developing this product range, as it offers exciting solutions in today's animal production business. The way Nutriad applies its strong scientific record in this field towards practical solutions is a benchmark in the industry."
Nutriad delivers products and services to over 80 countries through a network of own sales offices and distributors. Supported by 4 application laboratories and 5 manufacturing facilities on 3 continents. Find out more at www.nutriad.com