MSD Animal Health to Present Important New Data at the World Buiatrics Congress
UK - MSD Animal Health (known as Merck Animal Health in the USA and Canada) will present 45 studies at the World Buiatrics Congress in Dublin, Ireland, from July 3-8, 2016.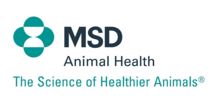 The majority of presentations will focus on the increasingly important cattle respiratory and reproductive health.
"MSD Animal Health is committed to advancing the science of healthier animals by providing comprehensive solutions to protect herd health throughout the lifecycle," said Dr. Jantijn Swinkels, Global Technical Director, Ruminants, MSD Animal Health. "We are pleased to share important new data to help producers across the globe advance how they treat and prevent some of the most serious and economically damaging diseases affecting cattle."
Selected topics will be featured on the company's video channel, StudioBovine. To learn more about MSD Animal Health, visit the company's website or follow us on LinkedIn. For more information about the World Buiatrics Congress, visit wbc2016.com.
Abstracts selected for oral and poster presentations are as follows.
Oral Presentations
Respiratory Health
Intranasal vaccination in the face of maternal antibody induces long-term mucosal immune memory (July 5, 10:45-11:00 a.m.)
Comparison of two macrolides in the control of BRD in calf ranch cattle (July 7, 9:15-9:30 a.m.)
Efficacy of flunixin meglumine pour-on administration in a tissue cage model of inflammation
(July 7, 9:30-9:45 a.m.)
Early detection of bovine respiratory disease and immediate treatment with flunixin help to reduce the use of antibiotics in beef calves (July 7, 9:45-10:00 a.m.)
Treatment of naturally occurring bovine respiratory disease in juvenile calves with a single administration of a florfenicol plus flunixin meglumine formulation (July 7, 11:30-11:45 a.m.)
Associations between lung consolidation, bovine respiratory disease treatment and live-weight in UK veal cattle (July 7, 11:45 a.m.-12:00 p.m.)
Effectiveness of tildipirosin and tulathromycin in the control of bovine respiratory disease in high-risk beef heifers (July 7, 12:30-12:45 p.m.)
Failure to define the aetiology of acute pneumonia cases in live dairy cows (July 5 15.15-15.30 p.m.)
Neonatal Health
On farm monitoring of the four Q'S of colostrum management is important (July 7, 12:00-12:15 p.m.)
Other Topics
There is a need to raise farmers' awareness of correct vaccine storage temperatures (July 5, 10:30-10:45 a.m.)
Systematic review and meta-analysis of the effectiveness of cefquinome therapeutic schemes for the treatment of clinical mastitis in bovine (July 4th, 15.45-16.00 p.m.)
Poster Presentations
Respiratory Health
Flunixin meglumine transdermal pour-on solution as adjunct therapy in the treatment of bovine respiratory disease in calves less than 8 weeks of age (Thursday, July 7th)
Efficacy of injectable florfenicol plus flunixin combination against an experimentally induced Mycoplasma bovis infection in calves (Thursday, July 7th)
Field prevalence of bovine respiratory pathogens by PCR technique in France (Wednesday, July 6th)
Pulmonary lesions and clinical disease in Histophilus somni-challenged calves treated with, either tildipirosin or tulathromycin (Thursday, July 7th)
Incidence and antibiotic susceptibility of non-viral pathogens isolated from calves with BRD (Thursday, July 7th)
Comparative time, behavior and economic differences associated with calves receiving a flunixin pour-on vs. an intravenous product (Tuesday, July 5th)
Reproduction
Resumption of ovarian cyclicity and energy balance in Holstein cows in France based on in-line milk measurements (Wednesday, July 6th)
Protocols combining GnRH and a prostaglandin analogues for the treatment of ovarian cysts in dairy cows (Tuesday, July 5th)
Efficacy of 86μg gonadorelin and cloprostenol sodium in a dairy fixed-time artificial insemination program (Wednesday, July 6th)
Effect of two different bovine somatotropins on milk yield and reproduction of dairy cows in Brazil (Wednesday & Thursday, July 6 and 7th)
Absence of association between pre and post-partum energy status and genital inflammation in dairy cows (Tuesday, July 5th)
Equine chorionic gonadotropin treatment in a fixed-time artificial insemination protocol in anestrus beef cows (Tuesday, July 5th)
One single dose of equine chorionic gonadotropin is sufficient for superovulation of cows (Tuesday, July 5th)
Udder Health
Antimicrobial susceptibility of staphylococcus aureus isolated in bovine mastitis in France (Thursday, July 7th)
Effectiveness and safety of a novel flunixin meglumine transdermal pour-on solution in the treatment of bovine mastitis (Monday, July 4th)
Intramammary prednisolone treatment of naturally occurring clinical mastitis only increased clinical cure in mild mastitis (Monday, July 4th)
Bovine Viral Diarrhea Virus
Monitoring of BVDV by testing antibodies to NS3 protein in calves vaccinated with an inactivated BVDV vaccine (Wednesday, July, 6th)
Does BVD vaccination of recently weaned pasture-fed beef cattle prevent weight loss when exposed to persistently infected cattle? (Tuesday, July, 5th)
Molecular epidemiology of bovine viral diarrhoea virus in Spain (Wednesday, July, 6th)
Parasitology
Fipronil and Fluazuron: efficacy of a novel parasiticide combination against Dermatobia hominis and Cochliomyia hominivorax in naturally infested cattle (Thursday, July, 7th)
Pharmacokinetic evaluation of a new combination of Fipronil and Fluazuron topically administered (pour-on) in cattle (Thursday, July, 7th)
Therapeutic and residual efficacy of a novel Fluazuron combination against Rhipicephalus (Boophilus) microplus in naturally infested cattle (Thursday, July, 7th)
Comparative therapeutic and residual efficacy of a novel parasiticide combination of Fibronil and Fluazuron against Rhipicephalus (Boophilus) microplus ticks in artificially infested cattle (Thursday, July 7th)
Neonatal Health
Evaluation of quality and management of colostrum on dairy farms in Spain (Thursday, July 5th)
Improving colostrum management in dairy calves by blood IgG measurement combined with recording colostrum management data (Thursday, July, 5th)
The healthy calf – a nationwide survey examining the IgG concentrations in newborn calves (Tuesday, July 5th)
Animal Welfare
Education of the dairy employee on animal care – A practical approach using Dairy CARE 365 (Tuesday, July 5th)
Vaccination
Evolution of seroprevalence for BHV-1 gE in a French herd vaccinated with a live bovine herpesvirus type 1 marker vaccine (Monday, July 4th)
Vaccination against clostridial disease in maternally derived antibodiespositive lambs; a randomised, non-inferiority field trial in twin lambs (Tuesday, July 5th)
Vaccination intramuscularly in the neck vs subcutaneously into the ischiorectal fossa: A non-inferiority study comparing serological and colostral immunity, and tissue reactivity in cows vaccinated with a combined vaccine against rotavirus, coronavirus and E. coli F5 (K99) vaccine (Tuesday, July 5th)
Vaccination of dairy cows in late gestation: effect on serum and colostrum antibody titers for BRSV and Mannheimia haemolytica (Tuesday, July 5th)
Other topics
Digital communication and knowledge transfer for veterinary practitioners and their client animal owners in Ireland (Monday, July 4th)
Validation of an easy-to-use device for non-esterified fatty acids assay in blood in dairy cattle (Tuesday, July 5th)