Milk Testing for Dairy Cows from Woodley Equipment Company
UK - Woodley Equipment has expanded their range of veterinary diagnostic tests to include milk testing for dairy cows.
With three tests that can be carried out at the patient side, problems with nutritional status, the feeding program and udder infections can easily be identified to allow for efficient treatment of the animal. All three tests are non-invasive, require only 5ml of milk and produce results in 2 minutes or under.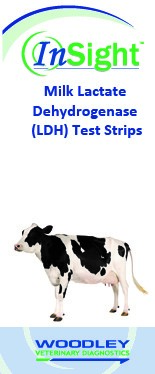 The InSightTM Milk β-Hydroxybutyrate (BHB) Test Strips help identify ketosis in a subclinical state, caused by a lack of nutrition, especially during early postpartum period.
By monitoring the nutritional status of dairy cows and treating where necessary, it is possible to prevent decreased milk production, fertility becoming impaired and displaced abomasums.
The InSightTM Milk Urea Nitrogen (MUN) Test Strips are used to effectively monitor the protein nutritional status and the feeding programme.
Milk urea nitrogen is produced in the liver from ammonia, which is derived mainly from the breakdown of protein. Effective management of MUN levels can ensure that nitrogen excretion is kept to a minimum and that relevant nutritional requirements are met, which results in increased milk protein yields.
The InSightTM Milk Lactate Dehydrogenase (LDH) test strips are used to monitor and diagnose udder infections (Mastitis) in dairy cows.
The level of LDH found in an animal increases during the udder infection. These test strips, which are an alternative to somatic cell counting (SCC) can identify the presence and severity of tissue damage, which allows for effective treatment to commence.
For further information, contact Woodley Equipment Company:
Email: [email protected]
Tel: 01204 669033
Fax: 01204 669034
www.woodleyequipment.com
TheCattleSite News Desk