Further Foot and Mouth Outbreaks Reported in Zimbabwe
ZIMBABWE - There have been 21 more outbreaks of Foot and Mouth Disease in cattle in the south of Zimbabwe.
These outbreaks occurred in a different location to the last report, and were centred in the south of the Midlands region and the Matabeleland South region.
There were 1373 cases out of a susceptible population of 16,702 cattle.
The disease is thought to have been spread by illegal movement of animals, contact with infected animals whilst grazing and watering, and contact with wild species. The new outbreaks have been spread by infected communal dip tank areas as animals mix in an already quarantined zone.
In the Chiredzi and Manicaland districts, cattle mix with wild animals such as buffalo, and in these regions vaccinations are long overdue. A lack of vaccine supplies mean that not all districts are able to access the vaccine, as supplies have been diverted to a cordon area to prevent spread to other regions.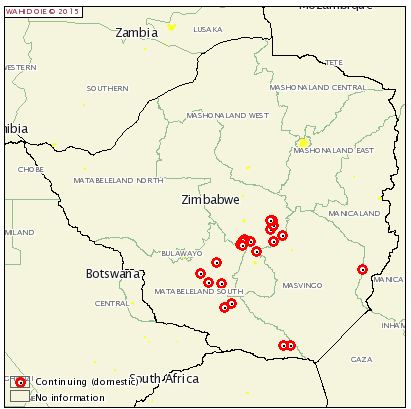 TheCattleSite News Desk