Short-Term Cattle and Hog Loan Programs Altered
CANADA - In recognition of the ongoing cash crunch facing cattle and hog producers, the Saskatchewan government has unveiled changes to its short term cattle and hog loan programs, writes Bruce Cochrane.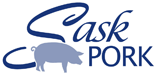 Farm-Scape is sponsored by
Manitoba Pork Council and Sask Pork
FarmScape is a
Wonderworks Canada
production and is distributed courtesy of Manitoba Pork Council
and Sask Pork.
Last December the Saskatchewan government allocated 60 million dollars on the cattle side and 30 million on the hog side, to provide short-term loans.

Last week Agriculture Minister Bob Bjornerud announced producers will be given the option of deferring their principle payments for one year and he removed the requirement for accelerated repayment of the hogs loans when the weekly pool price exceeds 140 dollars per 100 kilograms.

Bjornerud says livestock producers continue to feel the effects of the high Canadian dollar and high grain prices.
Bob Bjornerud-Saskatchewan Agriculture Minister
Cash flow is the big problem that all parts of the livestock industry, but especially on the hog side, right now are having trouble with.

Having said that, there may be a little bit of light at the end of the tunnel.

I see the futures on into June and July are maybe looking a little bit brighter so we've got to get to that point.

What I thought, by deferring the principle right now might help them get from now into that time period and maybe things will pick up a little bit.

We realize the stress they're under.

I think the answer to all of this, of course, is our prices would go up.

The dollar has dropped and we're seeing a little wee bit of movement on the cattle side.

We were watching the prices and there's a few cents maybe improvement on that and let's hope that is just a start of where we could go with this.

On the hog side, of course, we're hoping that will translate into higher hog prices but we haven't seen much of that movement at this point yet.

Going back that's why we're doing what we're doing in deferring it and trying to let producers at least get one payment away from them that they won't have to worry about for the next year.

They've got enough things to deal with with the cash flow that they have so let's hope this helps a little bit.

Bjornerud notes we've been through these cycles before, where we have low prices then prices will improve a bit and we know in the future they'll go down again.

He says hopefully we're heading toward better prices and having the Canadian dollar stay down around 80 cents would be a big advantage for the industry.
TheCattleSite News Desk